A New Home for JTA in the Heart of LaVilla
Introducing Jacksonville's new regional mobility hub
About JRTC
The Jacksonville Regional Transportation Center at LaVilla, or JRTC, opened on Monday, May 4, 2020, and connects customers to Downtown Jacksonville from all areas of the city and the Northeast Florida region.
As Downtown Jacksonville's main bus transfer facility, the JRTC at LaVilla brings together JTA bus routes, the First Coast Flyer, the Skyway, regional shuttles, rideshare, paratransit and other shared transportation in a modern and environmentally friendly facility.
To help ensure safe travel for everyone, all JTA bus routes will continue to operate on schedules promoting social distancing. These measures are in place at the JRTC to maintain a safe environment and to avoid overcrowding at the bus terminal. Customers should continue to abide by local, state and federal executive orders and follow the COVID-19 preventative guidelines established by the Centers for Disease Control (CDC). 
Transit Changes
Rosa Parks Transit Station
Bus Routes
First Coast Flyer
Skyway
Intercity Bus Terminal
Express Select Services
Future
Rosa Parks Transit Station

The Future of Rosa Parks Transit Station

When the JRTC at LaVilla opened on May 4, 2020, the Rosa Parks Transit Station ceased to be Downtown Jacksonville's main bus station. The station will remain active as a Downtown hub for JTA bus routes 10, 19 and 86, the First Coast Flyer Red Line and the Skyway. 

The eastern half of Rosa Parks Transit Station is currently being decommissioned and prepared for eventual Transit-oriented Development opportunities.

Bus Routes

Available transportation services

In addition to serving a majority of the JTA's regular and express bus routes, the JRTC at LaVilla serves the First Coast Flyer BRT network, the Skyway, regional Express Select shuttles for Nassau, St. Johns, and Baker counties, Connexion and Connexion Plus paratransit and other shared mobility solutions.   

The 21-bay bus transfer facility begins underneath the JRTC Administration Building and extends along a single, safe , and covered platform.

Bus routes served by the JRTC at LaVilla include 1, 3, 4, 5, 8, 10, 11, 12, 13, 14, 15, 16, 17, 18, 19, 21, 22, 25, 32, 33, 53, 200, 201 and 205, as well as the First Coast Flyer Green, Blue, and Red Lines. To view PDFs of the new schedules, please visit the Schedules page.

 

First Coast Flyer

First Coast Flyer

 

The First Coast Flyer is the JTA's premium bus rapid transit network featuring 10-minute frequencies during peak hours and 15-minute frequencies during non-peak hours. These routes give commuters a quick, comfortable ride to work, school or other key destinations with limited stops, complimentary Wi-Fi and quiet CNG-fueled buses.

Click the links below to view the new schedules for the First Coast Flyer, effective May 4, 2020:

Skyway

Skyway

The LaVilla Station (formerly Convention Center Station) will open on Wednesday, July 1, 2020. The Skyway station is directly connected to the second level of the JRTC at LaVilla, providing easy access to JTA bus routes, the Intercity Bus Terminal and JTA administrative offices.

View Skyway Map

Intercity Bus Terminal

Connection to the Intercity Bus Terminal

Phase 1 of the JRTC at LaVilla opened as the Intercity Bus Terminal in April 2018 serving Greyhound, Megabus and RedCoach customers. When the JRTC at LaVilla opens, a pedestrian bridge will provide a safe connection between the JRTC and the Intercity Bus Terminal across Forsyth Street. 

Express Select Services

Express Select Services

On Monday, July 6, 2020, the JTA welcomes its newest additions to the Express Select family of regional services — Baker Express Select and St. Johns Express Select. In addition, service for the Nassau Express Select will resume.

Each service expands transportation options from Jacksonville's downtown core into regions to the north (Nassau County), west, (Baker County), and south (St. Johns County), with executive-style comfort and amenities. Express Select services run Monday through Friday, with morning and afternoon trips.

 

 

Future

Future and additional services

Areas for rideshare and other e-mobility solutions are incorporated in the design. As we grow our transit network, we'll be sure to share those details with the public.
Safety And Accessibility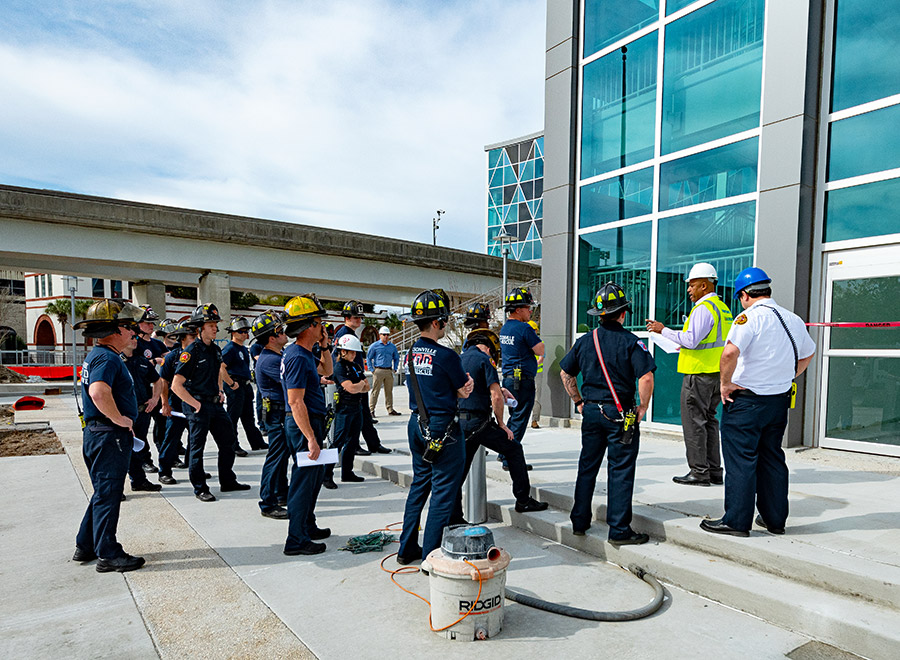 Safety and Security
The safety and security of JTA customers, employees and visitors is our top priority. That's why the JRTC at LaVilla features the latest security technology, a 24-hour security center and trained professionals to maintain a safe and inviting transportation hub. The JTA will continue to have strong partnerships with the Jacksonville Sheriff's Office, Jacksonville Fire and Rescue Department and other local, state and federal law enforcement agencies.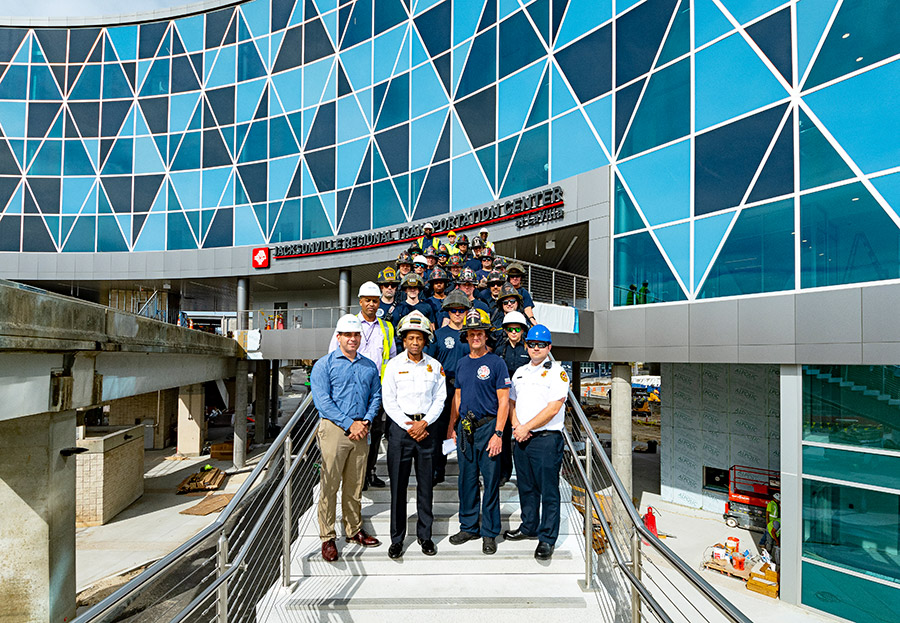 Accessibility
The JRTC at LaVilla is built for everyone, regardless of physical limitations. The JTA is going above and beyond the requirements of the Americans with Disability Act (ADA) to ensure equal and easy access to our transportation services, our administrative headquarters and other components of the JRTC at LaVilla. Enhanced wayfinding, digital signage and dedicated customer service personnel will make the JRTC at LaVilla an inviting experience for everyone.
Office Changes
Customer Service
The JRTC at LaVilla features indoor and outdoor customer service areas for route planning, ticket purchases and finding information about JTA services. Security and Transit Operations personnel will be on the ground to help you identify your bus route in one easy-to-navigate bus platform.
Key staff will be in place throughout the facility should you need help.
Administrative Offices
The JTA's administrative offices have relocated from 121 W. Forsyth Street to 100 LaVilla Center Drive. Current phone numbers, operating hours and email addresses will remain the same.
The JTA administrative offices are open Monday – Friday, 8 a.m. – 5 p.m. All guests visiting administrative offices will check in on the second floor.
*Ticket sales at 121 W. Forsyth Street ended on Monday, February 17, 2020. Tickets can be purchased at the JRTC at LaVilla or through the MyJTA app.
Celebrating History
Throughout the JRTC at LaVilla, the JTA has dedicated wall space to tell the stories of this historic neighborhood and transportation on the First Coast.
These experiential graphics will weave a story that begins with indigenous cultures and extends to what could be the future of transportation. 
Mural Gallery